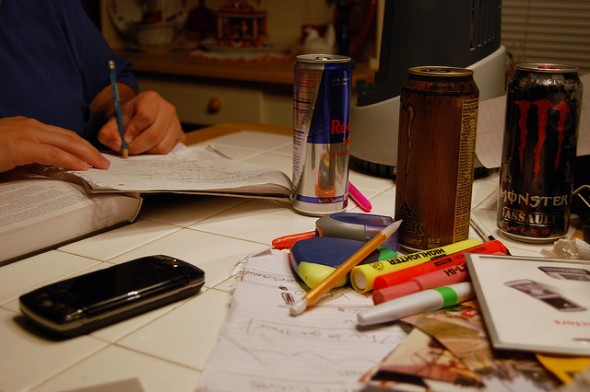 Here's the deal. If you're a high school student heading to college, statistically speaking, you are going to graduate with debt. According to American Student Assistance, of the 20 million Americans who went to college in 2012, 12 million of them borrowed money. As of the first quarter in 2012, the average student loan debt for all age groups was close to $25,000, 10% of borrowers owed more than $54,000 and 1% (about 167,000 people) owed more than $200,000 dollars. And that money has to be paid back. One way to ease this burden? Choose the right major.
Check out our student loan calculator
For prospective college students, choosing a major seems like a lot to ask. Even if you go into school undecided, you only have a year or two to figure out what you want to do with the rest of your life. The conventional wisdom says to major in what interests you, and your career will flow from there. With 66% of high school graduates attending college in 2012, college graduates face a saturated job market upon graduation and an unemployment rate between 15-20%. It helps to know whether there are jobs available in the areas that interest you.
In the SmartAsset Guide to College Majors we are going to explore some of the most popular majors. We'll lay out what you'll study, what jobs are available in that field, how much you can earn, and, most importantly, whether you'll actually be able to get a job after you graduate.
The theme of our first issue will be–you guessed it–the humanities!
College Major: English
Unemployment rate for recent grads: 9.8%
Median Starting Salary: $38,000
Median Mid-Career Salary: $64,700
Your Horoscope:
English majors are passionate, idealistic folk. They have a broad base of interests in the realm of the arts, with the most significant being the written word in all of its forms. If you are hoping to study English, you probably have high critical thinking skills and creativity. You are a voracious reader and watcher of film and theater. You probably write creatively in your free time and tend to harbor strong opinions on life and moral issues. You feel awesome when you pick up on literary references in everyday discourse.
What your college experience will be like:
College-level English classes run the gambit from serious literary theory and critical analysis classes to highly emotional writing workshops where anything goes. In many ways, studying English is a purely academic and self-gratifying venture. Skills learned in this major do not easily translate directly into many types of work. Before choosing English it is important to decide whether you actually want to study English, or you just really liked reading the Harry Potter series. If the latter is the case, you might be more satisfied with an English minor or just making time to read on your own each day (this is more difficult than it sounds in college).
If you do decide to study English, it is important to get involved in as many writing-oriented opportunities as possible around campus. Join the school newspaper, the staff of a literary magazine, write for online student publications, etc. The portfolio you develop during your time as an undergrad is absolutely necessary to make yourself stand out when it comes time to look for work.
And remember: nobody is better than an English major at writing about how great it is to study English.
What you'd like to do:
Prospective English majors are told that their degrees offer a broad range of working opportunities. This is only partially true. English undergrads with more academic minds will want to become professors or teachers. Some will want to become professional writers: journalists, novelists, screenplay writers, and whatever else. Others will seek to enter the publishing industry as editors, publishers, PR people, or marketers. Some schools also offer professional writing majors that focus on business writing and communication. No matter what specific area, you generally want to have a creative hand in shaping what is out there for people to read.
Job Market Realities:
A tumultuous publishing industry as well as an overabundance of writers in online media means an extremely competitive marketplace for those looking to find work as writers or editors. Entry into these industries means freelance work ("free" being the operative term) or unpaid internships for long stretches of time. Those looking to enter academia will most likely spend extra years in grad school buried in literature and debt. Many English majors may find themselves straying into other types of work, such as HR, PR, and whatever they can find in order to make ends meet.
Tip: While critical thinking and creativity skills learned studying English are useful in any job, it is important to supplement this with skills that are more concretely marketable. Minors or double majors in advertising, marketing, business, or economics might help focus you down a path to a more specific career. It will also bolster your resume and interview repertoire with industry knowledge and technical training.
Where you will live:
For those hoping to break into the publishing industry, chances are you will head to New York City. If you want to be a novelist, you will probably live at home for the rest of your life. Otherwise, English majors can end up just about anywhere.
Will I graduate with a full time job?
Probably not.
College Major: Communications
Unemployment rate: 8.2%
Median Starting Salary: $40,000
Median Mid-Career Salary: $69,600
Your horoscope:
Communications majors are completely immersed in the realm of media. They are not only into the creative side of media production, but they also have a deep interest in the mechanics of reaching people on a large scale. If you are considering communications, you may have worked for the school newspaper or a news program in high school. You probably enjoy journalism, but without the lofty idealism your English studying peers might possess. You are confident and unafraid of public speaking or sharing your (strong) opinions. You think all the people on Newsroom have, like, the coolest jobs ever.
What your college experience will be like:
Classes for Communications majors touch on several subjects: journalism, political science, law, advertising, design, and more. Pretty much anything necessary to communicate media to an audience is scrutinized on a theoretical basis. You will most likely become involved in the school newspaper or any video or radio programs your school offers. Communications majors become versed in the digital world on a broad based but (mostly) functional level. You may find yourself writing serious research papers on things like social media and social games. With Communications, anything in media is fair game.
As with English, get involved in as many college media outlets as possible. If you want a job in media upon graduation you'll need examples of things you've done. Because communications is such a general degree, you will have to really separate yourself if you want to show employers you are passionate about what you study and did not spend college coasting along.
What You'd like to Do:
As a person with interests in media, chances are you see yourself becoming involved in journalism or becoming an assistant at a major network. You also may find yourself drawn to digital outlets, and have hopes for working for a digital news or entertainment company. Perhaps your interests lie in advertising. Really, the opportunities seem endless.
Job Market Realities
While the most ambitious students may find their way into a major media outlet as an assistant, the majority of communications majors will be looking for jobs in the pool of vague, liberal arts friendly areas. The job search can easily become the reductionist exercise of telling prospective employers that you are a communications major and therefore "good at communicating". You will find yourself applying at assistant positions in magazines and newspapers (along with 100,000 other graduates) as well as PR positions in more corporate offices. Doing PR for a consulting firm might not sound as exciting as working for Esquire magazine, but it would be a start, and at least the opportunities might be there.
Where you will live:
The open nature of communications jobs means you can work almost anywhere in the country. Most cities have their own news and media outlets that may be looking for people with your background.
Will I graduate with a full time job?
Probably not.
College Major: Psychology
Recent Grad Unemployment Rate: 9.2%
Median Starting Salary: $36,300
Median Mid-Career Salary: $60,700
Your horoscope:
Psychology majors are a unique breed. If you are hoping to study psychology, you are interested in the reasons why people act the way they do. You are scientifically minded, but without wanting to delve into the real nitty-gritty of the hard sciences. You are a thoughtful, good listener with strong critical thinking skills. You may have hopes of becoming a therapists or psychologist. Really, you think the brain is cool and want to know how it guides our behavior.
What your college experience will be like:
Psychology is one of those majors where the classes just sound cool. You will have fun in the beginning of each semester bragging to your friends in more practical majors that you are taking classes like, "Cognitive Neuroscience and the Media," and "Brain Evolution: Becoming Human." What these classes will entail is studying specific parts of the brain as they correlate to behaviors and sifting through research and case studies. You will have research requirements, which will entail being subjected to graduate research as a Freshman and Sophomore and working as a research assistant in your upperclass years. More dedicated and promising students will be able to conduct research with professors.
What you'd like to do:
If you're considering studying psychology, you might be interested in going into a clinical capacity. You may also be interested in social service and want to help people sort through their problems. Many psychology majors pursue higher education to receive degrees in neuroscience, clinical psychology or counselling. Teaching is also always an option for psychology majors. Many students hope to study psychology and apply the knowledge to a totally different field.
Job Market Realities
Psychology majors are subject to many of the same problems as English and Communications majors. They are particularly well-suited to positions in HR as assistants and coordinators. They can also find themselves in publicity roles and consumer research positions. Some find their way into the advertising world as strategists. Because so many different majors can also apply for these media positions, it is very competitive and psychology majors might not have the portfolio of experiences their peers possess.
There are more opportunities available in research positions for non-profits as well as community research centers. Focusing on these types of opportunities with your research experience at school is a good way to find a job specific to your qualifications.
Where will I live?
Because your career path is not clearly defined, you can end up just about anywhere.
Will I graduate with a full time job?
Maybe. Some non-profits hire research assistants straight out of college. If you work for a professor you might transition smoothly into a grad program and continue a research project. If you don't plan on doing research or staying in academia, you probably will have to spend some time job searching.
Photo Credit: jpellgen