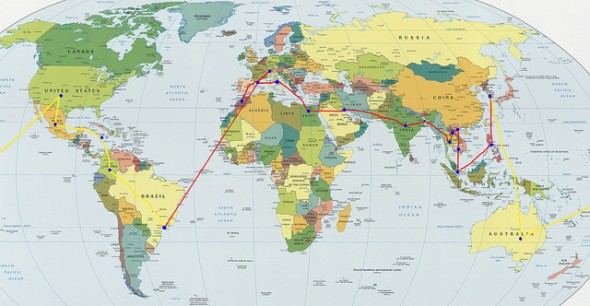 Colin Powell knows a thing or two about travel, having spent 35 years as a soldier, including time spent as Chairman of the Joint Chiefs of Staff, National Security Advisor, Secretary of State and later as an author and speaker. He once said, "A dream doesn't become reality through magic; it takes sweat, determination and hard work." A travel-centric career requires all of that plus knowing what your options are. We've compiled a list of the top ten travel careers to help speed you on your way to… who knows where!
Find the best travel credit card for you.
Airline Employees
Sure we could have gone the easy route here and said flight attendants or pilots but that would leave out all the other employees who travel as part of their job and enjoy the perks of free and discounted flights on them as well as participating competitors. Most airlines offer all of the employees from mechanics to executives a package of benefits that includes free travel.
Certified Travel Consultant
Public and private organizations of all sizes organize and participate in meetings, symposia and other events at locations that require travel. Certified travel consultants may be directly employed or work as independent contractors researching, organizing and managing travel to and from events as well as arranging for hotels, conference and meeting space at the destination. Consultants regularly travel to exotic locales to oversee organization and to scout new venues.
Cruise Line Worker
Sailing the seven seas aboard a floating luxury hotel that makes regular stops at exotic ports of call is a tough job but someone has to do it. Shipboard positions run the same gamut of jobs in the landlubber hospitality field which includes hotel and restaurant careers from chef to waiter. Ships also require engineers, mechanics and naval officers to man them 24 hours a day, 7 days a week, which means lots of opportunities.
Travel Guide
Looking to put your high school and college foreign language skills to the test working as a tour guide may be just the ticket. Domestically or internationally, being able to communicate with groups of happy vacationers means spending lots of time traveling to destinations with groups. Foreign language ability are not the only skill that will open this door; history, natural sciences and other educational backgrounds are also ideally suited to helping tourists get the most out of their adventures.
Photographer
From news hounds to destination wedding photographers proficiency behind a camera, whether it's stills or video, being a photographer can land you in fantastic destinations near and far to chronicle momentous events both personal and profound. Formal training helps but a solid portfolio and willing customers or employers is all that is needed to get started.
Accounting
Considering a career in accounting does not have to mean a lifetime chained to a desk in a dark back office pouring over spreadsheets. It can mean traveling to factories and facilities in all four corners of the globe to conduct audits on behalf of banks, creditors, corporate headquarters and others. Sure during your work day you may still be stuck in a dark office pouring over spreadsheets but after hours and off time you can check out locales like Thailand on someone else's dime.
Geologist
You would have to have rocks in your head to not realize that field geologists who work for energy, mining and construction companies have to travel far and wide as part of their jobs to determine the viability of sites on every continent. You might explore potential diamond mines in Africa or Canada and sapphire mines in Australia before jetting off to China to look for copper reserves.
Engineering
From chemical to construction and from mechanical to materials, engineers are employed around the world and career opportunities abound. Trading jobs every year or two in different exotic locations or traveling as part of your job for an aerospace company, the possibilities for travel as an engineer are even more extensive then the list of engineering disciplines.
English Teacher
If you're reading this in your first language and you're an English teacher you can write your ticket and go anywhere in the world to teach English. As the language of international business and trade there is an endless supply of students throughout the world who need to learn and master English. So if you have a passion for education and an itch to see the world, pack your bags, there's a job waiting for you out there!
Travel Writer – Blogger
Sharing a love of people and places with readers is the simplest description of a travel writer or blogger. Travel writers can work as freelancers creating content for magazines and websites. They can work as content creators for travel companies or corporate entities. They blog to share their experiences and enlighten their fellow sojourners, regardless of where their work appears, travel writing is the quintessential travel career.
Photo Credit: flickr