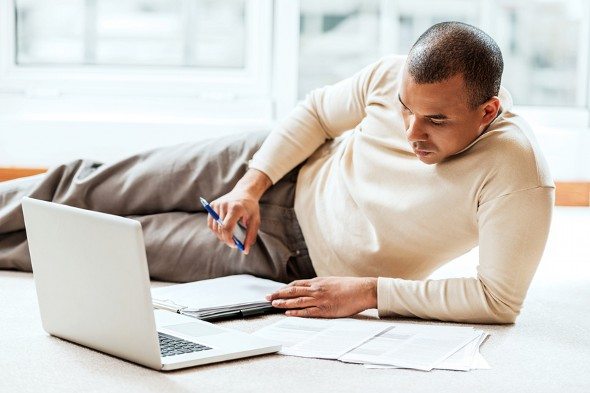 Working from home can give employees more flexibility and potentially improve their quality of life. But even if you don't have to commute to an office, you still have to meet your deadlines and get your work done. Putting some rules in place can help you stay engaged and increase your productivity. Check out some rituals, tips and strategies that can help you stay on track.
Check out our 401(k) calculator.
1. Set a Schedule
Once you start working from home, it's a good idea to establish a daily routine so that you can get into the habit of waking up and getting right to work. It's also wise to set some goals that you want to meet each day and each week. Creating your own schedule or making a to-do list can go a long way in making sure that you stay motivated.
2. Create Physical Boundaries
It can be tempting to work in bed or on the couch, but having a different space to work in can make it easier to be productive. It might also be a good idea to find a place at home to store your work files and equipment so that you can separate your work life from your personal life. Don't forget to make your work space inviting so that you look forward to accomplishing everything that you need to do.
3. Take Breaks
Sometimes you have to step away from your work. Even when you're working from home, it's important to give yourself a lunch break. At the very least, you can step outside if the weather is nice or catch up on what's happening in the news. If you want to be productive and avoid distractions, taking breaks is essential.
Related Article: The Top 10 Cities for Working Parents
4. Be Accountable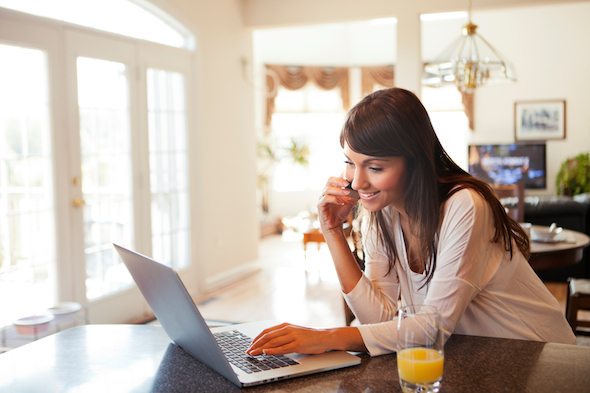 If you're telecommuting, you'll need to be able to effectively communicate with your coworkers, clients and employers. Whether you communicate via instant message, email, video chat or over the phone, it's important to be clear and honest about the progress you're making toward completing your projects. While you don't have to be superman or superwoman to work from home, you'll need to make sure that you can deliver if you promise to get something done by a certain date.
5. Get Dressed
Going to work in your pajamas may sound nice, but it can make a Monday feel like a Saturday or a Sunday. Getting dressed can help energize you. You don't have to wear a suit, but putting on clothing that's somewhat professional can help set the tone for a productive work day.
6. Minimize Distractions
Children, pets, music, TV and Facebook are all distractions that can keep you from finishing your work. Even a mid-day nap can get in your way.
When you're telecommuting, it's important to make a conscious effort to stay away from diversions and interruptions. You might even need to pretend that you're not at home if you're having a hard time completing tasks throughout the day.
Related Article: 5 Ways to Motivate Yourself for Work Every Morning
7. Get Out
Don't let working from home keep you from socializing. While you may spend a lot of time at home, it's important to make time to meet up with friends, go on dates and expand your professional network. You can go to events with other telecommuters (as long as that's within your budget) or just work in some outdoor spaces (like cafes or gardens) that'll give you a chance to interact with others.
Bottom Line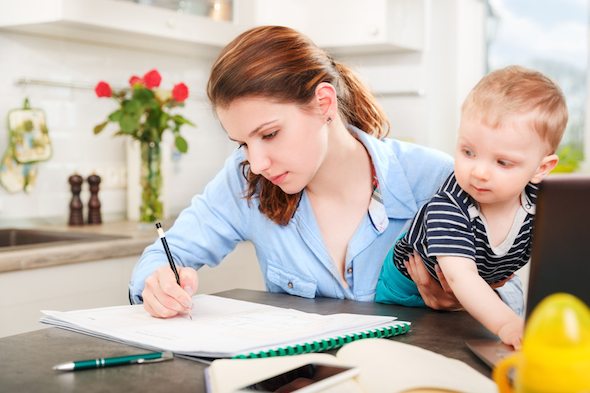 Staying focused can be tricky when you work from home, but it all comes down to finding the right environment for you. Everyone works differently. It doesn't hurt to take the time to experiment and learn more about your personal preferences so that you can perform at your best without having to visit the office.
Photo credit: ©iStock.com/kristian sekulic, ©iStock.com/M_a_y_a, ©iStock.com/alexsokolov