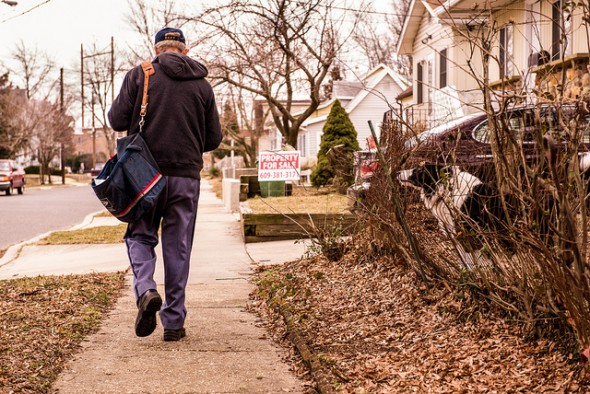 The job market is constantly evolving and innovations in the way people think, communicate and do business play a big part in shaping which career paths are the most successful. Certain jobs by their nature are unable to change at a pace to match the demands of the market, leading some positions to become obsolete. CareerCast recently released its 2014 report on the most endangered jobs and some of the results might surprise you. Here's a look at some of the occupations that are most at risk of disappearing in the near future.
1. Mail Carrier
Neither rain nor snow nor sleet can stop the postman from doing his job but an uptick in the amount of mail that's delivered electronically certainly can. According to CareerCast's report, which is based in part on data from the Bureau of Labor Statistics, the hiring outlook for mail carriers is -28%. The U.S. Postal Service has been battling heavy overhead costs for several years and the volume of paper mail is on the decline, both of which contribute to the need for a reduced workforce.
2. Meter Reader
Advances in technology are quickly spelling doom for meter readers, whose job it is to travel around and monitor utility usage. Gas, electric and water companies are increasingly relying on remote metering systems which don't require a worker to physically check them. The report estimates that employment will decline by 19% over the next decade, which is bad news for the country's roughly 38,000 meter readers.
3. Farmer
Farming has been one of the industries most affected by technology and like meter readers, employment in this sector is expected to drop by 19% through 2022. According to the BLS Job Outlook, larger farms are less likely to take as much of a hit, since their overall efficiency makes the more productive and adept at keeping costs low. Smaller farmers, on the other hand, may find themselves going out of business if they're not able to match the pace production-wise.
4. Newspaper Reporter
Over the last few years, there's been an ongoing debate about whether print media is dead and if you're a newspaper reporter you've probably got your own opinions on the matter. Whether or not it's actually true, there's no denying that electronic media has made it difficult for print publications to keep up. Employment is expected to decline by 13% over the next ten years but it's worth noting that the BLS projects hiring for writers in general will increase by 3%.
5. Travel Agent
Planning a vacation usually isn't something you can do on the spur of the moment and hiring a travel agent takes a lot of the stress out of the process. Still, the view isn't all that rosy for travel agents since the employment market is expected to shrink by 12% in coming years. The reason? More people are choosing to handle their own bookings through online discount travel sites. The BLS does point out that job prospects are best for agents who specialize in specific destinations or cater to a particular type of client.
6. Flight Attendant
The image of a flight attendant has changed dramatically since they first took to the skies in the 1930s and as a whole, the occupation is set for a bumpy ride over the next few years. While the BLS predicts that opportunities will open up as older flight attendants retire, hiring overall will go down by 7% over the next decade. Many employees have found themselves furloughed as airlines struggle to keep up with rising costs and that trend isn't expected to end any time soon.
7. Tax Examiner/Collector
While the prospect of fewer tax collectors being on the job may be appealing to many taxpayers, it's bad news if you currently work in the industry. Budget cuts are the number one culprit behind the projected 4% decline in employment but technological improvements designed to streamline reporting and collection practices is also a contributing factor.
Lumberjacks, drill press operators and printing workers round out the rest of the list, with employment declining between 5 and 9 percent in these fields. If you've been considering any of the careers we've covered or you're working in one of them now, keeping your resume updated and your prospects open isn't a bad idea.
Photo Credit: flickr