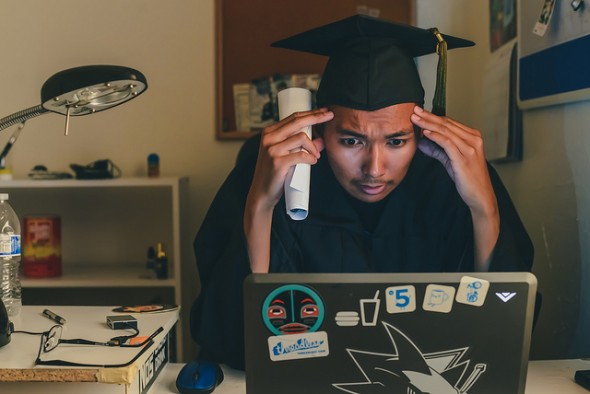 For the class of 2014, the prospect of landing a job right out of college may seem daunting. The Economic Policy Institute recently issued a report (called "The Class of 2014") which found that for recent college grads under age 24, the unemployment rate was roughly 8.5 percent, nearly two percentage points higher than the national average.
Find out now: Is it better to buy or rent a home?
There is some good news, however; according to the "Job Outlook 2014 Spring Update" survey conducted by the National Association of Colleges and Employers companies expect to hire nearly 9 percent more graduates this year than in 2013. While that's encouraging, the biggest challenge many grads face is where to look for work. If you're making the transition from college to the workforce, the following cities are a great place to kickstart your career.
1. Raleigh/Durham, NC
The Raleigh-Durham area is known for one of the greatest college basketball rivalries in history but it's also an excellent spot for young professionals to settle down. Raleigh boasts one of the most highly educated populations of any U.S. cities, with more than a third of residents over 25 holding a Bachelor's degree. The city's economy is largely driven by the manufacturing, tech and aerospace industries, boasting major employers such as GlaxoSmithKline and Cisco.
4 Common Job Search Mistakes New Grads Make
2. Austin, TX
Known as the "Live Music Capital of the World", Austin's vibrant nightlife scene and low unemployment rate make it especially attractive for college grads. More than a quarter of the city's 833,000 residents are under the age of 34 and approximately 40% of the population holds a college degree. The cost of living here is relatively low and Austin plays host to a number of big-name tech companies, including Dell and IBM.
3. Minneapolis/St. Paul, MN
If you don't mind cooler temperatures or snow, the Twin Cities are a great place to set up shop when you're fresh out of school. Unemployment is low, at just under 5% and the Minneapolis-St. Paul metro area is home to more than 15 Fortune 500 Companies. Rental prices here are slightly higher due to a larger demand but there's a healthy population of young recent grads if you're on the lookout for a roommate.
5 Places to Live if You're Young, Broke and Single in the South
4. Washington, D.C.
Living in the nation's capital tends to be a little pricier but it's a trade-off if you're interested in maxing out your earning potential. College grads working in the D.C. area earn some of the highest median salaries nationwide and the job market is solid, with the federal government one of the largest employers. The technology, hospitality and aerospace industries are also big business thanks to companies like Lockheed Martin and Booz Allen Hamilton.
5. Fargo, ND
Fargo may seem like an unlikely spot to get your career moving but it's actually a great choice if you're looking for a city with low unemployment, affordable housing and a virtually nonexistent crime rate. Residents are well-educated, with nearly 40% holding a college degree and almost a third of the population is under 34. Median rental rates are under $900 and there are plenty of rental properties to choose from.
Best (and Worst) College Towns to Live In
6. Mountain View, CA
Mountain View is an ideal choice for recent grads who are looking to break into the tech industry. Some of the world's largest tech companies are headquartered here, including Google, Symantec and Mozilla. Median home values are on the higher end of the scale, which is a drawback if you're looking to buy but rental rates are much more reasonable. The upside is that salaries also tend to be much higher, with the median household income approaching $90,000.
7. Columbus, OH
The midwest is often associated with grassy plains and corn fields but you'll find the Buckeye State has much more to offer. In terms of affordability, Columbus has a much lower cost of living compared to the national average. The median rental price is around $900 while homes sell for under $130,000. Unemployment hovers near the 5% mark and nearly 35% of the population is college-educated. Some of the largest companies that have set up shop here include JP Morgan Chase and Nationwide Insurance.
Money Lessons to Pass for the New Grad
Graduating from college is a major achievement and once you've got your degree, it's time to put it good use. Relocating to a city that's welcoming to recent grads can make your job search that much easier. If a move is in the cards, calling one of these seven cities home could pay off big in the long run.
Photo Credit: flickr