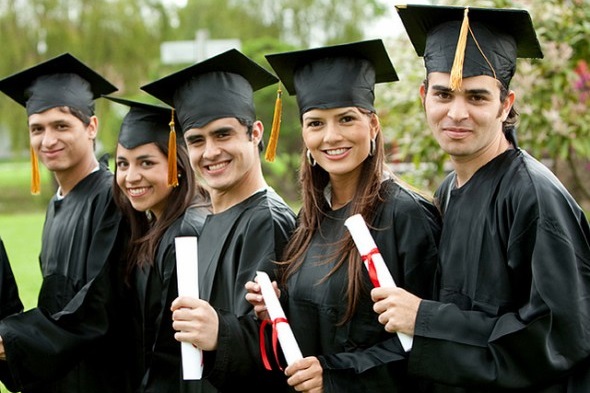 Graduation season is over and millions of students are exchanging their caps and gowns for business attire. Making the transition from college to the workforce is certainly exciting but it's easy to feel overwhelmed when you're new to the professional world. In today's competitive market, landing a job is tough but the real challenge begins once you're actually hired. If you're a new grad who'll soon be joining the ranks of the employed, here are a few tips to help you get started on the right foot.
Dress the Part
Your first day on the job can set the tone for the rest of your employment so you want to make the best impression possible. If you show up looking unkempt or inappropriately dressed you could be sending out the wrong signals to your colleagues and higher-ups. Check with the human resources department or ask other employees about the company's dress code policy in advance. If you can't get a clear answer it's always better to show up a little overdressed at first and adjust accordingly.
Know What's Expected
One of the biggest mistakes you can make when tackling a new job is failing to learn what it is your employer expects. Being afraid to ask questions can prevent you from doing the job to your best ability and it doesn't give you a chance to grow as an employee. You also don't want to make the error of assuming you already know everything your position involves. Confidence is important but overestimating your abilities will only backfire if you're not able to deliver.
Look for Challenges
Once you've gotten a grip on what your job involves it's easy to fall into a rhythm of doing the same thing day in and day out, but complacency won't get you ahead. If you're interested in moving up with the company or just expanding your skills you have to be willing to look for opportunities beyond what's expected of you.
Top 5 Reasons You're Not Getting Ahead at Work
Volunteering to take on additional tasks or help out with a project shows that you're motivated and it gives you a chance to demonstrate your strengths. The more visible you are, the more likely your superiors are to take note of your hard work and your willingness to face new challenges.
Build Professional Bridges
When you're trying to advance your career, it's often who you know that can make the difference in whether you reach the next level. From your first day on the job to your last you should be actively adding contacts to your network and establishing solid professional relationships.
Your first job is also an excellent opportunity to seek out a mentor. Ideally, your mentor should be someone who's already achieved a high level of success and has something valuable to teach you. Finding a mentor may take time but getting to know the people around you and taking an interest in what they haveto offer can eventually lead to the right connection.
Maintain Boundaries
Keeping your personal and professional relationships separate seems like a no-brainer but it's often something people of all ages struggle with in the workplace. If you're busy making personal calls or checking your email when you're supposed to be working, it's going to show in terms of your productivity. Staying focused on work shows that you're dedicated and serious about doing your best.
It's also important to maintain professional interactions with your coworkers, both in and out of the workplace. Engaging in office gossip or badmouthing other colleagues can damage your reputation and it detracts from the quality of your work. Some employers frown upon socializing after hours while others encourage it but gauging the company culture can help you decide what's appropriate.
4 Common Job Search Mistakes New Grads Make
The Bottom Line
Approaching a new job with the right attitude and expectations can have a significant impact on the quality of your first work experience. Maintaining a high degree of professionalism, being willing to learn and fine-tuning your communication skills are crucial when it comes to launching your career.
Photo Credit: flickr