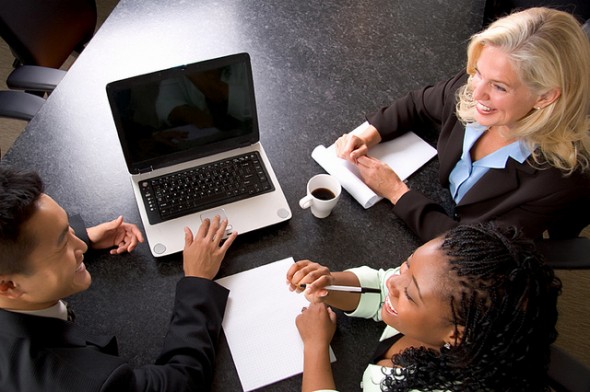 When you're just starting out in your career or you find yourself at a crossroads in your work, getting advice from someone who's been there and done that can help you find your footing. Having an experienced mentor in your corner is a valuable commodity when you're trying to get ahead. Finding someone to serve as your teacher, guide or just a sounding board is sometimes difficult. If you're looking to establish a professional mentoring relationship, here are five helpful tips to keep in mind.
The Top 10 Jobs for Salary and Growth
1. Be Clear About Your Expectations
Before you approach someone about becoming your mentor it's helpful to have an idea of what it is you hope to achieve. For instance, if you're just getting started in a particular field, someone who's been working in the industry for a while can share their knowledge with you and offer advice about how to plan out your path. If you're feeling bogged down in your current situation, you may just need someone to help you stay motivated and offer encouragement. The more specific you are about the kind of qualities you want in a mentor the better the odds of finding someone who's a good fit.
2. Assess Your Strengths and Weaknesses
Part of a mentor's role involves helping you make the most of your strengths while working to shore up potential weak spots. Taking a critical look at what your strong points are and what areas are lacking beforehand puts you in a better position to receive constructive advice and it gives your mentor an idea of what kind of coaching you need. Getting to know yourself better takes a lot of the guesswork out of the process and it makes it easier to create an action plan for improvement.
3. Cast Your Net Widely
One of the mistakes young professionals tend to make when trying to find someone to serve as a career mentor is being too narrow in their search. The workplace is a great place to start but you shouldn't limit yourself to a small circle of people. Go through your network and look for people who have the kind of characteristics or experience you're looking for.
6 Networking Mistakes That Can Hurt Your Career
If you have yet to really develop your network, you could try joining a professional association or get in touch with your school's alumni association. Who knows, your mentor could be one of your dad's golf buddies or someone your mom volunteers with. The point is that when you're trying to find a mentor, it's important to open as many doors as possible.
4. Fine-tune Your Approach
Going up to someone and asking them flat out if they'd like to be your mentor is awkward to say the least and it may be embarrassing if they turn you down. Once you've zeroed in on someone you'd like to approach, you want to keep your contact professional but friendly. Inviting them to meet with you in-person to discuss the possibility of a mentoring relationship is usually a safe bet. If your potential mentor is someone you don't know well, you might want to break the ice first by sending a personalized email to introduce yourself.
5. Be Upfront About Your Goals
If you're able to nail down a meeting with a prospect, you don't want to spend your time beating around the bush. Be clear and concise about why you're looking for a mentor, why you think they're the right person and what it is your goals for the relationship are. You don't want to come off as pushy or demanding and if you bring something unique to the table, it doesn't hurt to point that out. If the person seems responsive to your request, you should also be prepared to discuss what kind of time commitment the relationship will involve and what you're expected to do to hold up your end of the bargain.
Finding a professional mentor can be a transformative experience but it's often easier said than done. If you're turned down by the first person you ask or even the tenth, patience and persistence can eventually help you make the right connection.
Photo Credit: flickr