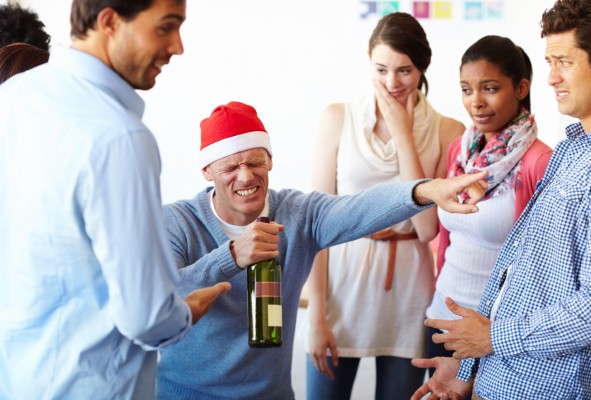 Office holiday parties can be a great opportunity to unwind and bond with your coworkers. We've all heard stories about people who take it a little too far, though. To make sure you're not the the talk of the office on the day after the party, it's important to stick to the following rules for office holiday party etiquette. Ideally, your appearance at the holiday party will enhance your reputation at your workplace, but you can also settle for a "do no harm" approach.
Check out our budget calculator.
1. Keep Your Wits About You
No list of office holiday party etiquette tips would be complete without the following advice: Don't drink to excess. In fact, though, there are some exceptions to this rule. Some offices have a hard-drinking culture, and it might be beneficial to your career to imbibe rather than make people feel like you're judging them by abstaining.
In general, it's best to respect two things: your general comfort with alcohol and the office culture. If you don't drink at all, it isn't a good idea to yield to the pressure to join in. If your office has a buttoned-up culture, you can nurse one drink all night.
But if partying a little harder seems to be the order of the day, you can probably afford to indulge. Just keep your wits about you and know your limits. You don't want to say or do something you'll regret.
2. Be a Team Player
At a normal party, you probably gravitate towards people you like and spend most of the evening talking with them. That's perfectly fair, but at an office party it's a good idea to mingle, even if that means talking to the Debbie or Dave Downer you might be tempted to shun. The smaller the team at your company, the more important it is to make sure no one is left out or forced to stand by the food looking at their phone. Observing the social niceties and making sure everyone is included is the right thing to do, and it could boost your image among your coworkers.
Related Article: The Top 10 Jobs for Salary and Growth in 2015
3. Follow a Common-Sense Dress Code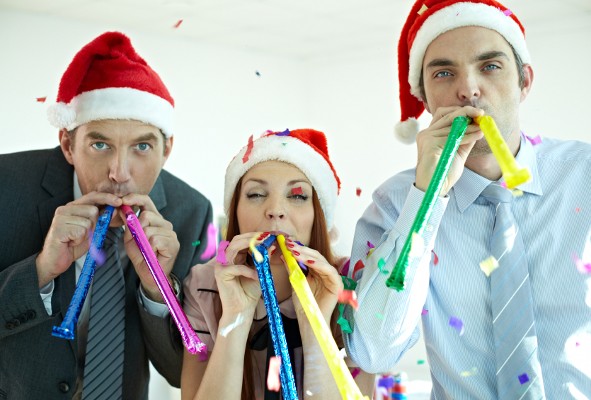 If you generally keep to a conservative dress code at work, it's best to follow the same rule when you're dressing for the office holiday party. At casual workplaces like startups, it can be difficult to figure out what to wear to the annual party. If you have questions, you can ask around and find out what other people are planning to wear.
Once you have a sense of what everyone else is doing, you can stick to common-sense rules of professional dressing. An office holiday party isn't the time to wear your most provocative garb, but you do want to acknowledge the occasion by wearing something other than your usual jeans-and-a-shirt ensemble.
4. Keep It Light
Most people don't want to talk about work while they're mingling at the office holiday party. Depending on your workplace, you might end up talking deadlines or project specifics, and that's OK. Just be sure to keep the conversation on the lighter side. The holiday party isn't the time to air serious concerns about company strategy.
The same goes for non-work topics, too. You don't want your contribution to a conversation to bum everyone out. If you're prone to oversharing, it's important to make sure to stick to the first tip on our list.
Related Article: 4 Ways Introverts Can Become Networking Pros
5. Take Care of Your Plus-One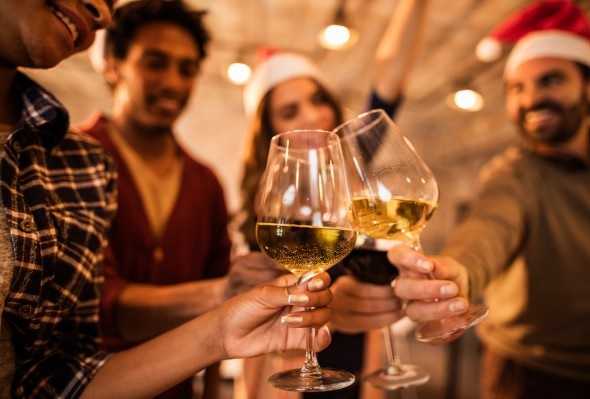 If you're bringing a plus-one to your office party, it's important to make sure he or she has a good time. You don't want to be so focused on getting in the good graces of your company's VP or CEO that you leave your partner stuck in conversation with your most boring colleague. Sure, the office party may be your time to make connections that will help your career, but that's not an excuse to leave your date high and dry. If this year's office holiday party is going to involve high-stakes networking, you might be better off going solo.
Bottom Line
Office holiday party etiquette shouldn't come as a huge surprise. If you follow normal etiquette rules at your office holiday party, you'll probably be fine. It's best to arrive on time, mingle and avoid gaffes.
Depending on your party, the host could be a coworker, the head of the company or the office manager. Whatever the case, it's a good idea to thank the person who put the event together and bring a gift if the party takes place at someone's home.
The office holiday party probably won't be a career game-changer. So you can relax, have fun and show up ready to work hard the next day.
Photo credit: ©iStock.com/laflor, ©iStock.com/mediaphotos, ©iStock.com/BraunS