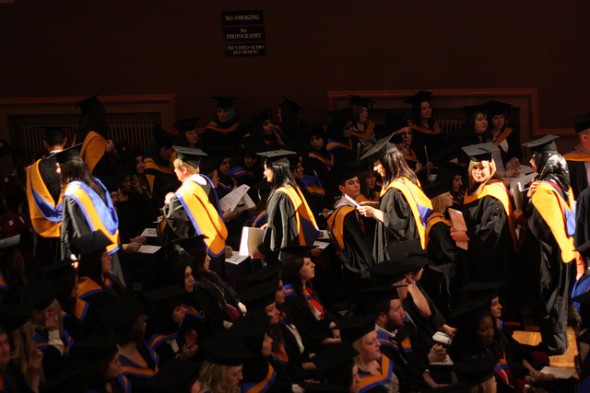 In today's competitive job market, having a college degree isn't always enough to guarantee you'll get hired. When you do land a job, you may find that the salary doesn't quite match up to your expectations. While a college degree undoubtedly boosts your earning potential, paying off your student loans can be tough if you're stuck in a low-paying gig. Picking the right major can significantly impact the return you see on your investment. If you're still undeclared, here's a list of degrees that can pay off big when it's time to start your job hunt.
Related: Can I Afford My Student Loans?
1. Computer Science
If you're a computer geek, earning a degree in computer science is a no-brainer. Generally speaking, this field deals with computers and computational systems. Depending on your degree program, you may study specialized topics such as artificial intelligence, digital system design or the application of mathematical principles as they relate to programming.
A degree in computer science is a stepping stone to a career in software development. According to the U.S. Bureau of Labor Statistics, demand for software developers is expected to increase by 22.8 percent through 2022. The median annual salary for software developers was $90,060 in 2013, which breaks down to an average hourly wage of $45.06. If you're comfortable behind a keyboard, a degree in computer science could be a profitable choice.
2. Petroleum Engineering
Engineering is traditionally a high-paying field and a degree in petroleum engineering can pay exceptionally well. Petroleum engineers are responsible for designing and developing methods for extracting oil and natural gas from beneath the earth. Their work is highly scientific and generally requires an in-depth understanding of chemistry, mathematics, physics and geology.
The BLS estimates that demand for petroleum engineers will increase by 26 percent through 2022, significantly above average compared to all other occupations. The boom is attributed largely to the increase in domestic oil drilling and fracking operations. In terms of pay, petroleum engineers have the potential to earn some major cash. Median annual salaries range from just over $100,000 to $160,000, based on experience.
3. Information Technology
While computer science deals with the operational aspects of computers and computer systems, information technology focuses on how information is transmitted and stored within those systems. Information technology majors may find themselves employed as web application developers, business intelligence specialists or IT managers, all of which fall on the higher end of the pay scale.
Related Article: Best Places to Live for College Grads Looking for Work
Information security is another area where demand for IT specialists is high as businesses seek to protect themselves from cyber crime. Information security analysts are expected to see some of the biggest job growth, increasing by 37 percent through 2022. Median annual salaries range from around $80,000 to just over $100,000, depending on your area of expertise.
4. Nursing
The health care field is always in need of qualified workers. Demand for nurses and nursing assistants isn't expected to diminish any time soon. Depending on the type of work you're interested in, you may be able to break into the nursing field with just an associate's degree. Keep in mind, however, that the more education you have, the more money you can earn.
Nursing assistants and orderlies fall at the lowest end of the ladder, earning a median annual wage of around $24,000. Licensed practical nurses are on the next rung, bringing in just over $41,000 a year on average. Registered nurses earn substantially more, at just over $65,000 while nurse practitioners and nursing anesthetists bring in close to $100,000 a year. If you're willing to spend a little more time and money on completing an advanced degree, it could pay off big in the long-run.
5. Economics/Finance
If crunching numbers and analyzing market trends are your thing, you could parlay a degree in economics or finance into a lucrative career. Typically, pay tends to be higher for financial specialists who work in a corporate setting but if you're interested in academia, the wages aren't too shabby. According to the BLS, economists earned a median annual salary of $91,860 in 2012 which may make earning your master's degree worthwhile.
Even if you only have a bachelor's degree, you could easily work your way up to a six-figure salary. For 2012, financial managers earned a median annual wage of $109,740, with the majority of graduates working in the finance and insurance sectors. Financial analysts, financial advisers and financial services agents are just a few more high-paying careers you could land with a degree in economics or finance.
Ultimately, the career you choose should reflect your interests and passions but it doesn't hurt to pick one that pays well. Choosing your degree path wisely can improve the odds of getting paid what you're worth.
Related Article: 3 Tips for Getting Paid What You're Worth
Photo Credit: Bradford College Graduation