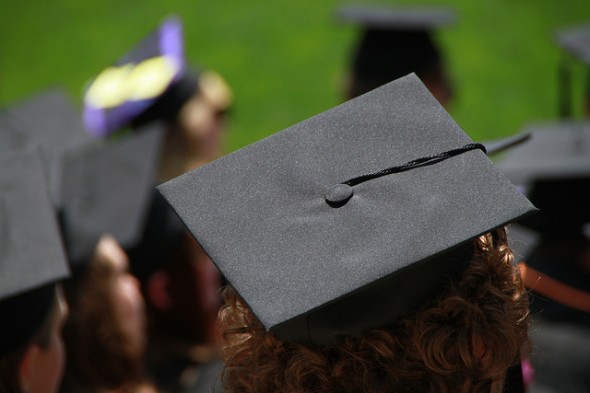 The May jobs report from the Bureau of Labor Statistics carried some big news. With 217,000 jobs added, the country finally recovered the number of jobs lost during the recession. The previous month saw the biggest hiring gain in over two years, paired with a new five-year low for the unemployment rate. While these figures should be encouraging, they don't necessarily spell good news for new college grads who will soon be embarking on a job search for the first time.
Money Lessons to Pass On to Your New Grad
According to the Labor Department the unemployment rate for 20- to 29-year-olds who graduated from college in 2013 was 10.9 percent. That's significantly lower than the 15.5 percent rate for 2009 at the peak of the recession but new grads still face some unique obstacles when entering the workforce. If you'll be on the hunt for a new job for the first time, how you approach your job search can have a big impact on your success. Avoiding these common pitfalls can make joining the ranks of the gainfully employed an easier transition.
1. Not Building Your Network
When it comes to finding a job, it's often not what you know but who you know that determines whether or not you get hired. The more connected you are, the better the odds of landing a job you want. Ideally, you should begin building your network even before you walk across the stage to collect your diploma.
If you participated in an internship or worked a part-time job while you were in school, you're already off to a good start. Parents, relatives, friends, neighbors and coworkers can also be useful for networking. Even if you don't know anyone directly in your target field, chances are you've got someone in your network who does and that can go a long way towards aiding your job search.
Top 5 Tips to Get the Most Out of a Summer Internship
2. Having Unrealistic Expectations
Landing a six-figure job fresh out of college is certainly possible but it's not a realistic goal for the majority of grads. More likely, you'll find yourself changing jobs multiple times before you end up on the right track. If you're looking to shoot straight to the top before the ink is dry on your degree, you may be setting yourself up for failure.
When you're scanning through employment listings, you shouldn't automatically discount positions that don't fit the mold of your dream job. Instead, you should widen your search to include those jobs that may offer you the opportunity to further you along the career path. Even if you're not making as much money as you want, the experience you're gaining could prove to be invaluable down the road.
3. Limiting Your Job Search Options
The Internet is an excellent resource for finding job openings but you should try to avoid spending too much time on the job boards. These sites are a good way for employers to improve their visibility but they also make it more difficult for qualified candidates to stand out. The odds of being selected for an interview can be slim when a company has hundreds or even thousands of resumes to sift through.
3 Unconventional Job Seeking Methods
When you're looking for a job, it pays to broaden your scope. Take a look through the classifieds to see what kind of employers are hiring in your area. Create a profile on LinkedIn and reach out to professionals or recruiters who are working in your field. Call up your alumni association to see if they have any leads on where the jobs are. The wider you cast your net, the more likely you are to snag the kind of job you're looking for.
4. Taking a One-Size-Fits-All Approach
Employers, for the most part, are looking for individuals who have something unique to offer, not just some cookie cutter employee who can punch a time clock. If you're presenting the same standard resume and cover letter to company after company without getting a nibble, it may be time to rethink your strategy.
When you're applying for a job, you want to make sure you communicate to the employer exactly what you have to offer. That means tailoring your resume and cover letter to best reflect your skills and experience. Just be careful to avoid overselling yourself or making promises you can't keep, since this could backfire if you get hired and can't deliver.
Best Places to Live for College Grads Looking for Work
If you're a recent grad who's struggling in your job search, you could be sabotaging yourself without even realizing it. Taking the time to fine tune your job hunting skills can help you find the career opportunity you've been looking for.
Photo Credit: Jason Bache