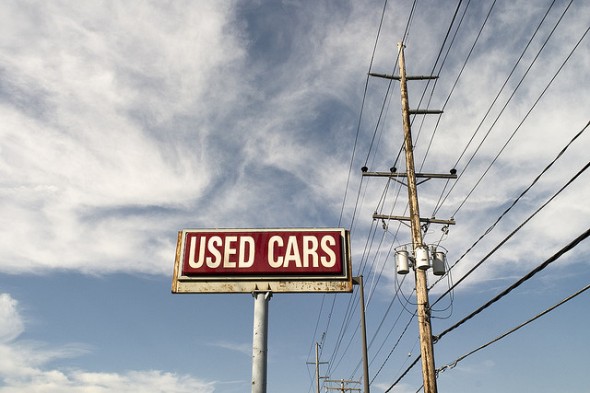 It's tempting to buy a new car when you watch TV and the car commercials are screaming at you every 10 minutes. Low down payments and no down payments are appealing. In fact, some of them are even offering such great deals with almost no interest for at least a portion of the loan. Does this mean you should actually go out and buy yourself a brand new car? Absolutely not. The reason? Regardless of what kind of deal is on the table, buying a brand new car is hardly ever worth the financial commitment.
Check out our student loan calculator
High Mileage
Most cars can handle an odometer that reads 100,000 miles just fine. Sure, you may have some maintenance issues to deal with along the way, but that number isn't obscenely high. These days, cars are built to last at least 100,000, and often much more. Think about it, the average American driver between the ages of 20-34 years old drives just over 15,000 miles a year. It would only take seven years at that rate to reach 100,000. Many of us are driving around cars at least 8-10 years old and they're doing just fine.
Related Article: New vs. Used: 8 Things You're Better Off Buying Secondhand
The Value of a New Car
Like many electronics and computers, the minute you buy a brand new car and it leaves the car lot, it decreases in value. Unless it's a classic car in amazing shape that you've poured your heart, soul and pocketbook into, your car is never going to appreciate in value. Instead, it will steadily decrease in value until it's not worth much at all. Even if you take great care of your car, it simply can't hold its original value. For every year that you own your car, it depreciates by about 20% in value.
Related Article: Free Money and the Lost Art of Haggling: Buying a Car
The Financial Investment
With a new car, not only are you probably going to be paying a higher monthly payment, but you're also going to pay a higher insurance rate as well. When you owe on a car, you've got to have full coverage. The more you owe on the car, the more you pay in insurance because it's calculated on what it would cost the insurance company to replace or fix your car.
Depending on which state you live in, you can also pay a pretty hefty sales tax on a car too. You'd have to pay that tax whether the car is used or not, but it's a percentage of the value of the car. If you buy a car in parts of California, you'll pay almost 10% of the value of the car in taxes. That could add at least $1,000 just to a $10,000 car.
If you feel like you need a new car, buying a 'newer' used car will probably work out just fine for your needs. Not only will you save a boatload of money, but you get a new-to-you car.
Photo Credit: Bryan Costin